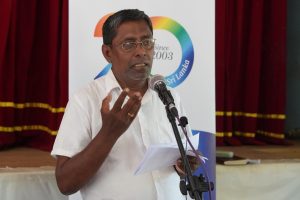 A significant public event named "Let's Align to 2024" took place yesterday (17th of August) at Anuradhapura, aiming to foster awareness and dialogue towards sustainable development with a strong emphasis on human rights. Distinguished speakers from various fields engaged in thoughtful discussions to enlighten attendees on the importance of inclusive growth and reconciliation.
Prominent figures including Dr. Nimalka Fernando, respected for her human rights advocacy, and Mr. Ajith Perakum, a seasoned journalist, shared their insights on the occasion. The event also featured Mr. Philip Dissanayake, Executive Director of Right to Life, Mr. Nimal Dissanayake, First Aid Centre Coordinator in Anuradhapura district, and Lawyer Dulan Dassanayake.
Mr. Nimal Dissanayake underlined the significance of open dialogues, stressing that they promote comprehensive understanding and inclusive conversations, unlike debates that often sideline diverse perspectives. Dr. Nimalka Fernando emphasized the urgent need for political solutions, truth-telling, and transitional justice to foster reconciliation within the Sinhala and Tamil-speaking communities in Sri Lanka, who have lived with mutual suspicion for decades.
The event marked an important step forward in building bridges between communities and addressing key challenges through cooperative discussions. The organizers expressed their gratitude to all participants and reaffirmed their commitment to driving positive change as Sri Lanka moves toward 2024.
The "Let's Align to 2024" program successfully provided a platform for informed conversations and constructive insights, fostering hope for a united and rights-conscious future.