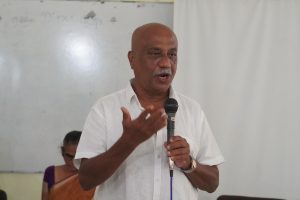 Right to Life Human Rights Center and Hambanthota Human Rights First Aid Center facilitated a civil society public seminar in Hambanthota on July 22 with the participation of around 50 participants.
The theme of the seminar was 'Let us prepare for 2024' and the public meeting aimed to educate the public about the changes taking place in the country and the need for public participation in the dialogue about development and rights.
The seminar gave a special focus on safeguarding the rights base during the economic reforms. Journalist and activist Ajith Perakum Jayasinghe did a presentation about the government's Aswesuma welfare benefit scheme and highlighted the need for targeting subsidies correctly to the most needed people and safeguarding the poor, especially before the economic restructuring currently undergoing. He also pointed out the need for developing exit programs properly mobilizing the Samurdhi Animators and other public officials who are relieved from cash distribution thanks to Aswesuma digital transaction system.
Furthering the dialogue on poverty, Prof. H.W. Cyril, Chairman of the National Livestock Development Board, pointed out the need for the use of technology and modern knowledge in micro and small enterprises. He highlighted the importance of being scientific instead of believing myths and outdated traditions in agriculture and animal husbandry.
Attorney-at-Law Dulan Dasanayake highlighted the importance of economic and political restructuring in the context of change momentum in present Sri Lanka. He described at length how India utilized a similar crisis to change the path of the economy from a stagnating state-centered economy to a vibrant social market economy. He also pointed out that the rule of law is highly important during the reforms to safeguard the rights of the people and democracy.
Human Rights Defender Amitha Priyanthi said that people's vigilance and involvement are highly important in terms of safeguarding human rights and democracy in the present context in Sri Lanka. She described her experience as a human rights defender fighting justice delay.
Executive Director of the Right to Life Human Rights Center, Philip Dissanayaka explained the role of civil society in the present times, especially before the change taking place in the country.
The seminar was organized by the human rights defender of Hambanthota district, Mr. Tharanga L. Patabendi.