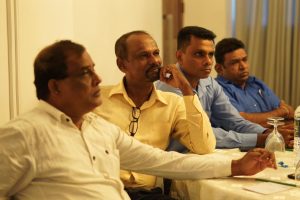 Hotel Mirage, September 15-16, 2023 – The coordinators of Human Rights First Aid Centers recently convened for a highly successful two-day workshop, held at Hotel Mirage. The event, which took place from September 15th to 16th, provided a platform for extensive discussions and strategic planning to further the cause of human rights.
On the first day of the workshop, Suneth Gajanayake, the project coordinator of the legal department, diligently reviewed the progress of the human rights first aid centers during the past period. Executive Director Mr. Philip Dissanayake offered valuable insights into the necessary adaptations to address current human rights challenges. Ms. Rashmika Wijesinghe outlined the responsibilities assigned to the centers in upcoming projects and the means to achieve project objectives. Project coordinator Ms. Dinithi Supekshala elucidated the monitoring and evaluation processes for these centers. Additionally, Mr. Ajith Parakum Jayasinghe introduced an upcoming survey related to ASWASUMA. The day concluded with a comprehensive discussion of anticipated challenges in 2024/25 and strategies to overcome them, including how the centers would be graded in the future.
The second day commenced with an enlightening session by Mr. Samudhu Basnayake, the Media Coordinator for Human Responsibilities First Aid Center, on the effective use of social media for advocacy. Dr. Jehan Perera Mahata delivered an impactful lecture on the critical importance of establishing transitional justice mechanisms. Mr. Ajith Parakum Jayasinghe then conducted an awareness session, sharing strategies to increase youth and women's participation in future endeavors. Finally, Mr. Philip Dissanayake, the Executive Director, laid out comprehensive plans and goals for the years 2024/25.
The workshop's successful conclusion signifies a strengthened commitment to upholding human rights and improving the effectiveness of Human Rights First Aid Centers in the face of evolving challenges. Participants left the event inspired and equipped to champion human rights causes in the years ahead.