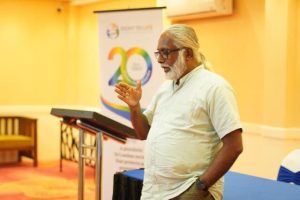 Exploring the Realities of Sri Lanka's Social Safety Net: Insights from Galle, Matara, Hambantota, and Monaragala Districts Focus Group Meetings.
In a recent series of focus group meetings held in the Galle, Matara, Hambantota, and Monaragala districts of Sri Lanka, a profound examination of the country's social safety net has brought to light crucial insights.
Over the course of these meetings, participants engaged in a candid discussion about the effectiveness and reach of the social safety net programs in place. The focus groups were composed of individuals from various walks of life, including community leaders, social workers, government officials, and beneficiaries of these programs.
Key topics discussed included the accessibility of social safety net services, the impact of these programs on poverty alleviation, and the challenges faced by both beneficiaries and administrators. Participants also examined the adequacy of the support provided to vulnerable populations and explored potential areas for improvement.
One of the primary takeaways from these meetings was the need for greater transparency and communication in the administration of social safety net programs. Many participants expressed concerns about a lack of awareness regarding available benefits and the application process. This lack of awareness often led to eligible individuals missing out on essential assistance.
Another significant theme that emerged from the discussions was the necessity for targeted interventions in areas with higher poverty rates. The participants emphasized the importance of tailoring social safety net programs to the specific needs of each district, as well as the importance of regular assessments to ensure the programs are effectively addressing poverty and vulnerability.
Furthermore, the participants underscored the need for continued cooperation between government agencies, local organizations, and the communities they serve to create a more robust and responsive social safety net. They also stressed the importance of fostering economic opportunities and education to enable individuals to break the cycle of poverty and reduce their reliance on social safety nets over time.
As these insights from the focus group meetings are further analyzed and discussed by policymakers and relevant stakeholders, it is hoped that they will lead to meaningful reforms and improvements in Sri Lanka's social safety net programs. These discussions represent an important step towards creating a more inclusive and effective system to support the country's most vulnerable citizens.