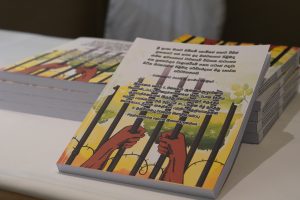 During the months of April and September 2018, the former National Human Rights Commission had conducted a study on prisons and inmates in Sri Lanka.
This study report provides data on living conditions inside their prisons, sanitation, humanitarian transactions, food, and the needs and rights that an inmate must meet and make recommendations in this regard.
It was prepared in English by the Human Rights Commission and translated into Tamil and Sinhala by the Sri Lankan Collective against Torture and launched on January 25 at the Renuka Hotel, Colombo.
Former Commissioner Ms. Ambika Sathkunanathan- AAL representing the former Human Rights Commission and Dr. Nimalka Fernando were present at the launch of the book.
Commenting on the study report, Attorney-at-Law Ms. Ambika Sathkunanathan said that the study's guidelines included changes that should take place from the moment a person enters a prison. Especially about women. How do we change the existing criminal justice system? Many of the people here are low-income earning people. Most are people who can't afford to pay fines and are addicted to drugs. At present the number of prisons is larger than the average capacity. She also commented on the problems that occur when they socialize.